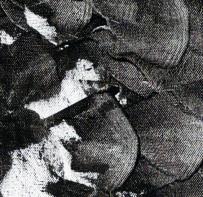 Gayle Lorraine's  compositions come from deep within, expressions of her emotions rather than visual realities. Recent works embody the vastness of the universe and the depth of the sea. Dream images made with brush and palette knife scrawl, loop and writhe across her canvases. White dots rise and fall like dandelion fluff, shimmer as stars in a warm, soft universe or appear as tiny fish netted by finely drawn webbing. Her mesmerizing works gift each viewer a unique interpretation, a personalized art story that expresses their life experience.

She explains her work simply, "I strive to create balance, beauty, depth, and motion in my black and white acrylic paintings. With knife and brush, fluid gesture and precise, delicate overlays, my intuitive process reveals hidden narratives. I invite the viewer to become an active participant in my art process: to journey into the canvas boundary and discover the symbolic language that speaks to them." She adds, "The finished art is there now on the blank canvas. I am only the hand that wields the tools for the creative spirit. I use paint to pick out what has already been completed."

© 2005 - Present   All Rights Reserved

Art is my meditation, my ultimate act of vulnerability, and my greatest passion.